Dead Astronauts
is a synthpop band and associated digital art project founded by designer, artist and producer Jared Kyle Nickerson.
Dead Astronauts started as an internet multimedia project in late 2011 by Jared Kyle from Seattle, USA. Hayley Stewart from Toronto, Canada, joined the project in 2012 as music producer, vocalist and lyricist.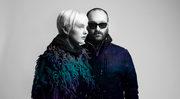 After Constellations release by the end of 2016, Stewart left the band to focus on her solo projects. In early 2017 it's been announced that Slade Templeton from Crying Vessel and Celine are joining the band.
Band Members
Edit
Current Members
Edit
Jared Kyle — vocals, production (2011-present)
Slade Templeton — production (2017-present)
Celine — lyrics, vocals (2017-present)
Former Members
Edit
Hayley Stewart — vocals, lyrics, production (2012-2016)
Discography
Edit
Studio Albums
Edit
A female character that appears on cover images is named Persephone after Jared's pug
External Links
Edit
Ad blocker interference detected!
Wikia is a free-to-use site that makes money from advertising. We have a modified experience for viewers using ad blockers

Wikia is not accessible if you've made further modifications. Remove the custom ad blocker rule(s) and the page will load as expected.